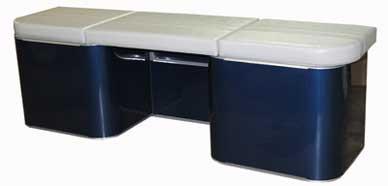 Sun Deck Cushion Set
Many modern pontoons have sundecks behind the back benches. Sundecks were originally developed to quiet the engine noise of older outboard motors. In the modern era with quieter four stroke outboard engines, sundecks are usually used for concealed storage and on rare occasion we have seen someone actually climb up on them and sun bathe.

Our Sundeck system can be added to most pontoon boats with little to no modification to be made on the existing fence. The Sundeck Fence pieces are stand alone pieces of fence that are fully enclosed. Two Sundeck U pieces are used to make a full Sundeck or a combination of one Sundeck U and a gate can be used for Stern Entry Sundecks. We Also have a three piece Sundeck Pad available or you can make your own Sundeck pad with some plywood and carpet.
8' Sundeck pad is three piece.   94" wide, 23" deep.
8'6" Sundeck pad is three piece.   100" wide, 23" deep
*****Note this is only for the cushion SunDeck Pad, and mounting hardware.  Mounting hardware is designed to work with our railing system and may not always work with existing fence railings from other manufacturers.****